Kérastase Résistance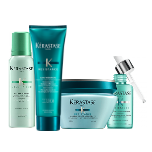 Kérastase Résistance, per capelli deboli e danneggiati - Acquista online!
Kérastase Résistance, arricchita con ceramidi, ricostruisce la materia interna dei capelli più deboli e sensibilizzati per ridare loro forza e nuova struttura, con un aiuto dalla Natura: la pianta della resurrezione, riconosciuta per le sue proprietà rigeneranti immediate.
Una ritrovata forza interna che si vede anche all'esterno: i capelli acquistano nuova salute e resistenza, non si spezzano e crescono più in fretta.
Per capelli indeboliti dai trattamenti chimici, termici, che rischiano di perdere elasticità e resistenza... Kérastase Résistance: una garanzia di vigore e bellezza.
There are no products matching the selection
This is a custom CMS block displayed if category is empty.
You can replace it with any custom content.